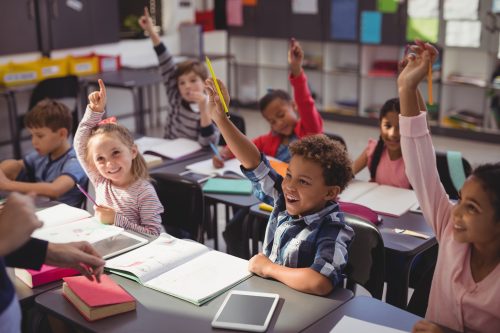 Covid-19 put so much of our lives on hold this last year. But so much also continued, including building construction and modernization projects. In Baltimore, Maryland, the 21st Century School Buildings Program forged on in the face of Covid-19, opening three new buildings, which house four school programs, in the last year. This case study tells the story of the associated ribbon-cuttings—detailing how they changed from pre-Covid times, and previewing hybrid models that districts across the country will likely employ moving forward. It's been a hard year, to say the least, but the challenges have also offered the opportunity to refine previous strategies, find new and creative solutions, and play a role in redefining our "new normal."
The 21st Century School Buildings Program is tasked with modernizing 28 of Baltimore City's school buildings in 10 years. The program is comprised of Baltimore City Public Schools, The Maryland Stadium Authority, Baltimore City, and the Interagency Commission on School Construction. It represents a massive investment in the future of Baltimore City's children and education—an investment that state and city representatives, district leadership, teachers, students, as well as communities are excited to be involved in and celebrate. So the opening of a new school is a critical point for both the program partners as well as the school and local community. But how does a school opening look in the middle of a pandemic? How can you keep everyone safe, while also welcoming them in and sharing the excitement and importance of this momentous occasion?
B&D's Communication & Public Engagement team, which has been engaged by the program for six years now, was instrumental in developing a strategy around these questions. The team understands how invested all stakeholders are in these projects, and plans to these needs. Clearly, those needs changed significantly in 2020.
Before Covid-19
Before our era of social distancing, masking, and pods, ribbon-cuttings were large, in-person gatherings often pushing the capacities of the building. State, city, district, and school leadership were invited to speak, though students took center stage to voice what a new school building and technology means to them and their classmates. Leadership and students then gathered for the big moment—the ribbon snip. So all in all, it was a packed, active event, with tours, speeches, training, performances, and collaborations. And as anyone who's attended a ribbon-cutting knows, it was an emotional event, with family and community members seeing the building for the first time.
During Covid-19
Pretty quickly, it became evident that we'd be living with safety measures for a while, and that events like ribbon-cuttings would need to take on a new life. But how do you replicate connection and positivity on a virtual platform?
The 21st Century School Buildings Program has answered that question—four times now, by opening four school programs in three school buildings. To meet the occasion, the communications team developed a new plan that responds to the needs of the community while abiding by federal and city regulations.
On August 26, 2020, the communications team held its first event really impacted by Covid: a hybrid ribbon-cutting program for Mary E. Rodman Elementary School; the event took place both online and, in a limited fashion, in-person.
At the time, Baltimore City regulations limited indoor gatherings to 25 people, so in-person invitations were limited to speakers and essential staff. Many measures were implemented to create a safe environment, for example the building was cleaned and sanitized, health screeners remained at the door to screen those coming into the building, sanitizing stations were put in place, and seating and photo opportunities followed 6ft distancing. Since student speakers remained the highlight of this event, and since the team knew parents and guardians might be concerned about students' safety if participating, the team created a strategy to communicate all measures being taken.
At the same time that the live event was unfolding for its limited in-person attendees, the broader community joined online. The event was live streamed to City Schools' Facebook and YouTube pages. And anyone who wanted to participate further was able to view a video tour of the building filmed prior to the event. This video now has 7.2K views and counting, exceeding expectations and expanding viewer audiences from the traditional 300-600 in-person event.
A few months later—in January 2021—an additional 21st Century School was getting ready to open. This school building would house the co-located school programs, Walter P. Carter Elementary Middle School and Lois T. Murray Elementary Middle School. At the same time, Baltimore City responded to a significant rise in Covid-19 cases by increasing regulations for in-person gatherings. So yet another strategy was needed. Prioritizing everyone's safety, the 21st Century School Buildings Program responded by holding an entirely virtual event to celebrate the two school programs.
A prerecorded video event required yet more planning—video storyboarding, script writing, filming days, and other intense preparation to create a unified, smooth video premiere. The team coordinated multiple video shoots to film building spaces, principal remarks, student remarks, and transition remarks. The ribbons were also set up on those days for the students and principals to cut. Other speakers were prepped with speaking points and filming guidelines to send pre-recorded videos of their speeches.
On January 27th, the resultant video premiered on City Schools' Facebook and YouTube pages. To date, the video has 3.3K views on City Schools Facebook and 958 views on YouTube. Exciting stats to see!
The full video was also edited down into two shorter videos, one each for the individual school buildings. The Walter P. Carter individual video has 23.2K views on City Schools' Facebook, Medfield Heights 16.7K. The videos once again outperformed expectations.
When we look at the total combined views for these covid-impacted events, we see that more than 50,000 people joined and celebrated—day of, days later, weeks later. The reach was not surprising in a logical sense—of course videos viewed any time, engaged with as the viewer sees fit—will see more activity than an in-person commitment. But the scale of the engagement was still staggering in the most exciting way.
Post-Covid
Forced suddenly into this difficult, global experiment, we are all now given the opportunity to reflect and evolve. For Baltimore's 21st Century School Programs, that meant moving previous, large, in-person events to either virtual or hybrid formats. The move required a combination of traditional marketing efforts as well as a completely new set of planning guidelines. It required a far deeper level of attention to detail, commitment to scheduling, and communication with stakeholders. However, all of this planning and execution effort ensured that the district, city, state, teachers, parents, and students got a chance to really celebrate and connect with the places that shape and strengthen communities—more so than ever before.
The Communications and Engagement team recognizes the wide-spread impact virtual events had on communities. Instead of a few hundred people, these events were able to reach thousands of Baltimore families and community members. Moving forward, the team hopes to continue implementing a virtual component in future ribbon-cuttings as well push forward with new ideas to expand access and cultivate connection.